The prompt for behind the blogger today is 'Round Here. 'Round Here can be anything and nothing but I am supposed to use this prompt to tell something" real" about myself. Something that the readers of this blog would be interested in learning about that I don't necessarily blog about most days. This post is supposed to share some insight into my life, but all I can think of is this Tom Petty Song.
For those of us coming of age in the 80's, this was one of our breakup songs. I remember listening to this song and crying my eyes out after I broke up with my boyfriend in high school. We eventually got back together and then he went to jail right before prom.
See I was one of those girls who liked "bad boys". We were a classic movie – The Wild One
meets Splendor in the Grass. He was Brando in black leather with a chain wallet and I was Natalie Wood the "good girl" so caught up in the romance of it all. He was dangerous and had those eyes you could get lost in. He was older, in his twenties and I was all of 17 when we starting dating. He was wild partied a lot, rode motorcycles, and liked to fight, but he had this side to him that only I saw. He was sweet and caring. He came from a good family and was rebelling in every way imaginable. I loved it. I loved the wild danger of being in love with him. I loved that this bad boy, rebel, that all the girls wanted, loved me. It was an intense and wild romance that lasted over a year, which is forever when you are in high school. We talked about marriage and children. We met each other's parents and snuck out to spend the night together. Then, in my senior year, a month before prom, he got arrested. I was devastated. I was heartbroken and never thought I would get over the pain.

I did get over the pain, but even though I haven't seen him in nearly 25 years, and we both married someone else; when I think of him I still get that butterfly feeling in my stomach. He was my first big love and he will always have a special place in my heart.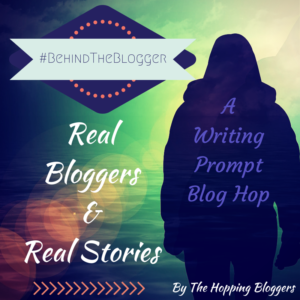 Thank you for reading a story from #BehindTheBloggerHop.
Every 2 weeks a group of bloggers is given a writing prompt. These prompts are very open ended, so our bloggers can write about whatever they desire. The main rule is that their blog post directly relates to the topic of that week. The point
of this hop is for our readers to get to know us on a personal level.
Please hop along and read all of the blog posts in this weeks hop. Just click the links below. If you want real and raw emotion, then you will find
it here. After you read each post, please comment and share. We want to get to know you too!
Are
you a blogger looking to join our future hops? Click here Sign Up Here